Table of Contents
1. Introduction
WafCharm is now selling WafCharm for AWS Marketplace worldwide starting 11/28/2022, except for the EU and some other countries. WafCharm has been sold in Japan and US, but to expand our customer base, we are now selling on AWS Marketplace as well. We hope to see more customers use our product.
We have made some enhancements in WafCharm for AWS Marketplace from the current WafCharm available through our website to provide on AWS Marketplace.
We are going to look at the differences in this post.
2. What is AWS Marketplace?
You may have used AWS Marketplace with other products, but AWS Marketplace is a digital catalog used to search, purchase, deploy, and manage third-party software, data, and services.
You can use the marketplace as a subscriber, a provider, or both.
*A subscriber may be referred to as a Buyer, and a provider may be referred to as a Seller depending on the document.
We provide WafCharm and Managed Rules on the marketplace, so we are a provider and a subscriber, just like our customers.
To purchase WafCharm, you can subscribe to the product on AWS Marketplace and then register an account on the WafCharm Dashboard.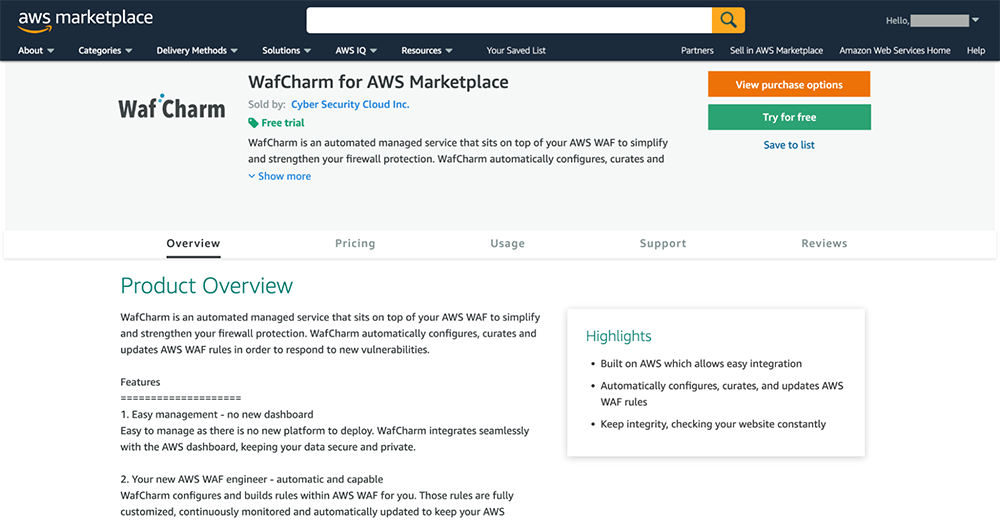 Click the "Set up your account" button to access the WafCharm Dashboard.
3. Difference in billing
Combine payments to AWS
Since you purchase WafCharm through AWS, the billing for WafCharm for AWS Marketplace will be combined with your other AWS resources.
Some of you may find it beneficial to combine and optimize tasks related to billing management.
4. Differences in features
Enhancement in blacklist features
As one of the main features in WafCharm, we provide a blacklist feature that updates the list of IP addresses by re-checking your access logs. WafCharm on our website updated the blacklist on an hourly basis, but we have constructed unique architecture for WafCharm AWS Marketplace version to update the blacklist every five minutes.
Equipped with web monitoring feature
FQDN provided in Web Site Config is registered as a monitoring target and when detection of DNS fails, when links to malicious websites are included, or when HTTPS connection configuration includes deprecated or compromised settings, we inform you at the email address registered for notifications via email.

For more details on this feature, please refer to the manual below.
Overview of web monitoring function
5. About the price
The subscription fee of WafCharm for AWS Marketplace starts at $800.
We will continue to provide the existing WafCharm available through our website as well, so consider the benefits and prices to decide which WafCharm subscription suits you better.
6. Conclusion
We explained the changes in WafCharm for AWS Marketplace features.
Some of you may find combining prices beneficial. AWS Marketplace version also comes with a web monitoring feature, so if you are looking to subscribe to both web monitoring and WAF features together, WafCharm for AWS Marketplace could benefit you.

WafCharm for Marketplace