Amazon Web Services, Inc. Exhibits at "AWS re:Invent 2023"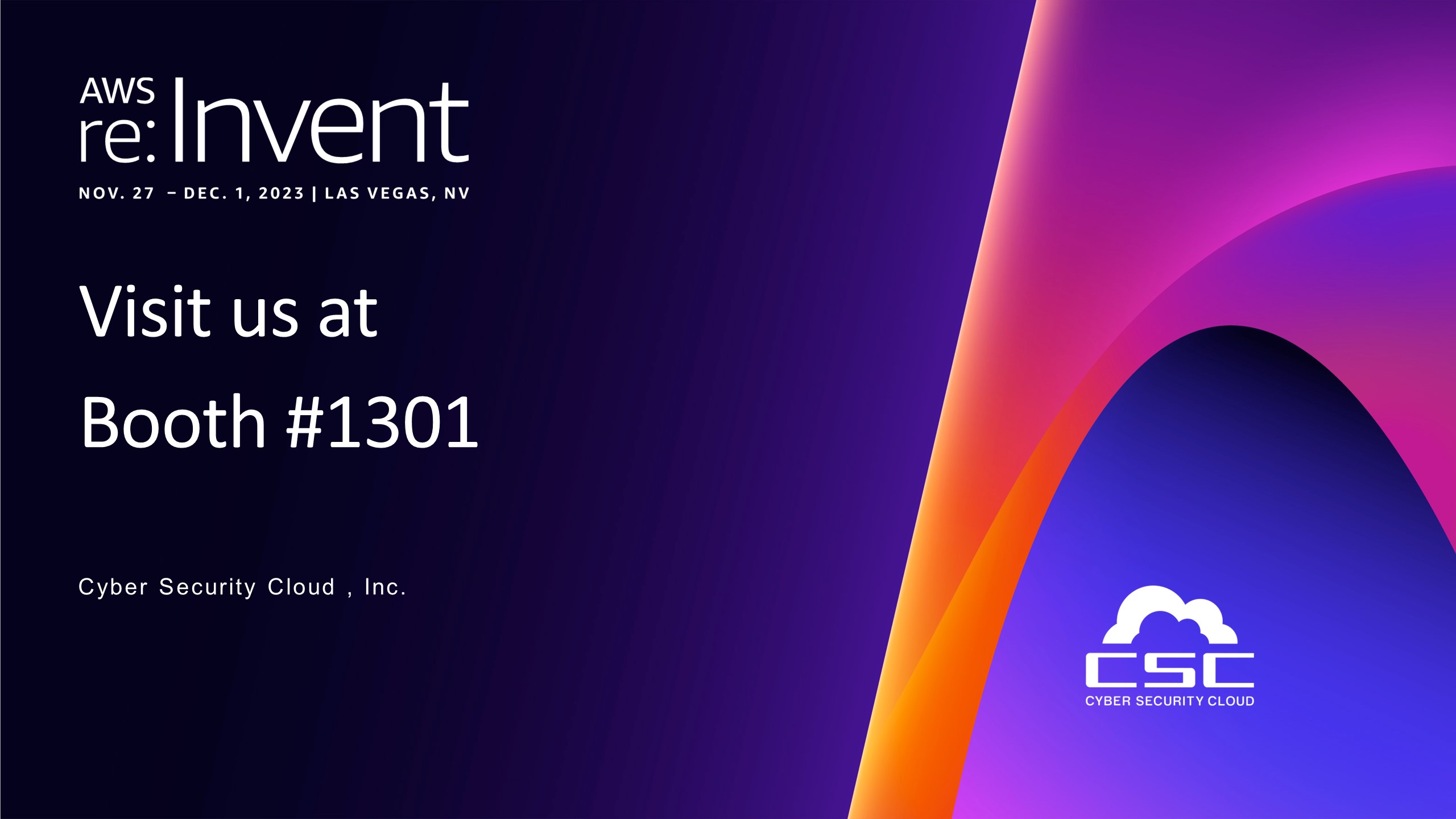 Cyber Security Cloud, a global security vendor specializing in hacker protection services (Headquarters: Shinagawa-ku, Tokyo, President and CEO: Toshihiro Koike,), is pleased to announce its inaugural sponsorship at "AWS re:Invent 2023," where users and partners from around the world will gather from November 27 to December 1, 2023 (US time).
Our global expansion journey began in 2019 with the launch of "Cyber Security Cloud Managed Rules for AWS WAF." In November 2021, we started selling the "WafCharm AWS edition," an automatic operation service for Amazon's AWS WAF, in the United States. The following year, we released "WafCharm for AWS Marketplace," equipped with tamper detection functionality, for customers worldwide. As of October 2023, our services have been deployed in over 90 countries and regions, serving more than 3,000 users.
As part of our strategic efforts for global expansion, we have been actively involved in activities to enhance our presence and recognition within the AWS community. In November 2022, at the "AWS re:Invent" event, our achievements from the previous year were acknowledged, and we received the "2022 Global Regional AWS Partner Award" for "AWS Marketplace Partner of the Year – APJ," recognizing us as the most successful partner in the Asia-Pacific region. In August 2023, we achieved the highest level, "DIFFERENTIATED," in the "AWS Partner Path," certified by AWS. Now, after several years of preparation, we are excited to announce our participation in "AWS re:Invent."
"AWS re:Invent" has been held annually in Las Vegas since 2012 and is AWS's largest annual conference, bringing together users and partners from around the world. Over the course of five days, more than 2,000 sessions will be held in multiple hotels in Las Vegas. Exhibiting at this leading industry event provides an excellent opportunity to showcase our service value to a wide range of potential customers and sales partners, contributing significantly to raising our global recognition.
As one of the few globally recognized cybersecurity service providers originating from Japan, we remain committed to strengthening our global business.
■ AWS re:Invent 2023: https://reinvent.awsevents.com/
■ About Cyber Security Cloud Co., Ltd.
Company Name: Cyber Security Cloud Co., Ltd.
Address: 13th Floor, JR East Japan Meguro Building, 3-1-1 Kami-Osaki, Shinagawa-ku, Tokyo 141-0021, Japan
Representative: Toshihiro Koike, President and CEO
Established: August 2010
URL: https://www.cscloud.co.jp/
With an aim to create a secure cyberspace that people around the world can use safely, Cyber Security Cloud offers web application security services that leverage Cyber Threat Intelligence and AI technology. Based in the U.S. and Japan. Cyber Security Cloud is available in over 90 countries and an AWS WAF Managed Rules Seller.